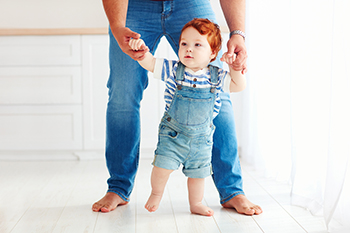 By monitoring a child's foot development in the early years—and intervening if any structural abnormalities or dysfunction is present—the child's quality of life can be vastly improved, and serious foot complications later in life may be avoided. Some milestones in a child's early development are: sitting up by themselves at approximately 6-7 months, beginning to walk at roughly 12 months, and walking heel-to-toe by age 3 instead of on their toes as some toddlers do while learning to walk. Toe walking after age 3 may just be a habit, or due to a tight Achilles tendon, or it could possibly be an indicator of a muscular, neurological, or developmental issue the child may have. If you are concerned about your child's foot development, schedule an appointment with a podiatrist for a full examination and consultation.
The health of a child's feet is vital to their overall well-being. If you have any questions regarding foot health, contact one of our podiatrists of Active Foot and Ankle Care, LLC. Our doctors can provide the care you need to keep you pain-free and on your feet.
Tips for Keeping Children's Feet Healthy
Make sure their shoes fit properly
Look for any signs of in-toeing or out-toeing
Check to see if they have Clubfoot (condition that affects your child's foot and ankle, twisting the heel and toes inward) which is one of the most common nonmajor birth defects.
Lightly cover your baby's feet (Tight covers may keep your baby from moving their feet freely, and could prevent normal development)
Allow your toddler to go shoeless (Shoes can be restricting for a young child's foot)
Cut toenails straight across to avoid ingrown toenails
Keep your child's foot clean and dry
Cover cuts and scrapes. Wash any scratches with soap and water and cover them with a bandage until they've healed.
If you have any questions, please feel free to contact our offices located in Fair Lawn, Riverdale, and Englewood, NJ . We offer the newest diagnostic and treatment technologies for all your foot care needs.
Read more about What to Do to Keep Your Child's Feet Healthy