At Active Foot & Ankle Care, LLC & Associates we are well known for providing top quality custom orthotics for our patients. Podiatrists at our office use an advanced 3D scanning system. This system creates a 3 dimensional model of the foot while it is in a neutral and non- weightbearing position. This way, we are able to capture the exact
contour of the feet in a corrected and most optimal functioning position. Biomechanical foot orthotics are not old-fashioned arch supports, which collapse when you stand on them, offering little support. Neither are the amateur or instant devices made merely by taking an impression of the defective stance of the foot when it is flat on the ground. Instead, they are corrective devices, which properly align the bones and maintain a more supportive anatomical relationship between the feet and legs. Weight forces are thereby better distributed, decreasing stresses and strains, and relieving symptons caused by abnormal foot function.
The 3D image of one's feet is sent electronically to the lab expediting the orthotic process. Through a computerized process, a replica model of each foot is fabricated. Three separate modifications of each foot model is made according to our instructions. This serves to contour the arch (i.e. extra high for dancers, lower for geriatrics), and angulate the heel and balance the ball of the foot area. Depending on the type of device ordered as well as the amount of flexibility and firmness needed, a specific state of the art polypropylene or fiberglass shell is selected. Once the shell is formed, various high-density rubber wedge/heel cups are utilized to balance, elevate or tilt ("to post") corrections on to the device. Each part is carefully selected to offer the appropriate
level of shock absorption or firmness depending on its intended use. Each corrected post is ground to specifications within 1 degree of our doctor's prescription. Our doctors have recorded the information necessary for the orthotic prescription during the original physical and biomechanical examination of the feet and legs which measured angular relationships and ranges of motion. The addition of various rubber posting materials to each device enables it to be perfectly balanced. Therefore, unlike other "foot supports" it will not excessively rock from side to side when pressure is applied and will offer maximum stability to the feet, knees, hips, and back, etc.
Finally, the devices are hand covered with an appropriate type of cushioning and fabric for the top cover. Sports devices may include high-performance suede like bottom covers to add durability. Covers may be extra cushioned, blister resistant, or super thin depending on individual needs or to best fit inside various shoe gear. There are well over 20 individualized steps in making orthotics.
Written by Richard T. Braver, DPM, FACFAS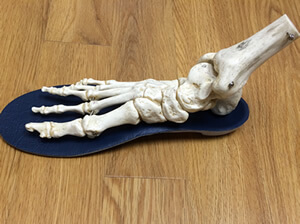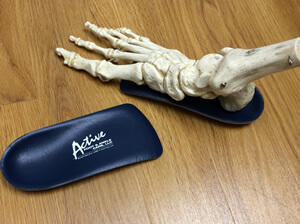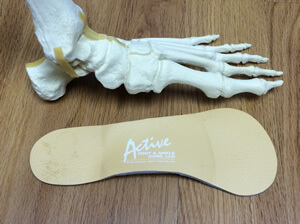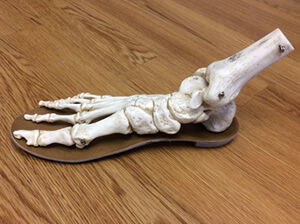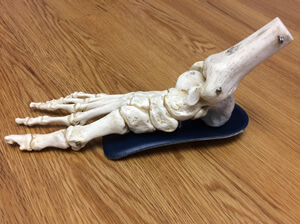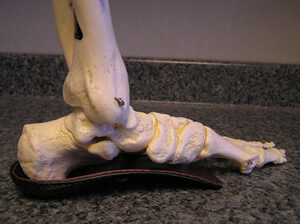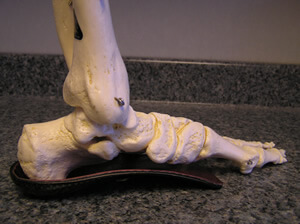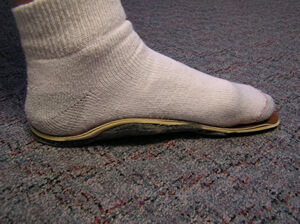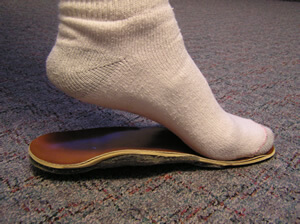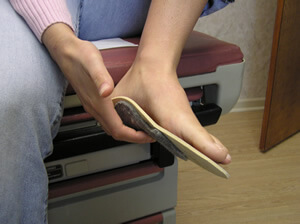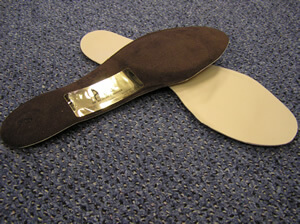 Photos courtesy of Richard T. Braver, DPM
TEMPORARY FLEXIBLE ORTHOTICS:
Dr Braver and staff have developed their own unique flexible orthotic devices fabricated in the office during one's visit. Measurements of the feet are taken and devices are fabricated by adding felt or rubber components to the undersurface of the device which are skived or grinded to help angulate or tilt the foot into a more neutral position. These devices include a pressure sensitive cover, which forms to the shape of your feet as your wear them over the course of a week. On your return visit to the office, the orthotics will be custom adjusted to help further alleviate the painful conditions or malalignment being treated. Most patients typically receive astonishing results when using these devices. Once progress is made,
the foot is 3D scanned for custom orthotic devices. Temporary orthotics also serve as a template for the custom devices, so that a smooth transition is made and the custom orthotics can immediately be worn full time. The temporary devices then serve as a back up pair of devices.
REFURBISHING ORTHOICS:
Unlike many orthotics on the market, our orthotics can be returned to the laboratory for complete refurbishing. Orthotics should last many years. However, depending on your level of activity (sports) you may need to have your devices refurbished yearly. This includes stripping of the entire device down to the bare polypropylene or fiberglass shell and adding all new components i.e. corrective postings, cushioning, and top and bottom covers. There is a minimal charge for this service to make your devices like new.
Please call our office to arrange an appointment or feel free to call for predetermination of orthotic benefits. We look forward to helping you.
BRAVER BALLET ORTHOTICS
Dr. Braver has developed the Braver Ballet Orthotics. They are worn by many dancers in their ballet slippers and point shoes and have also been used by many gymnasts who slip them on and wear in gymnastic slippers. These devices are posted at the forefoot and designed to function when one is pushing off the foot such as when lunging, jumping or for releve in dance. There devices also function to help reduce excessive foot pronation and to cushion the impact upon landing.
Written by Richard T. Braver, DPM, FACFAS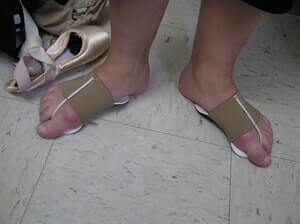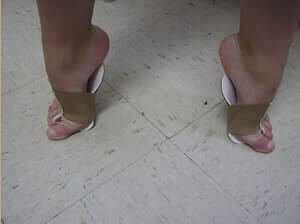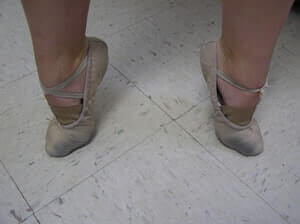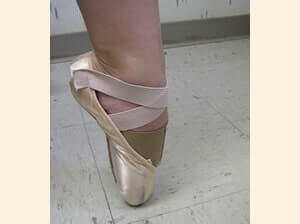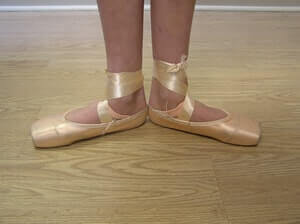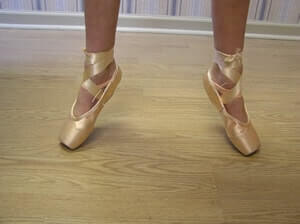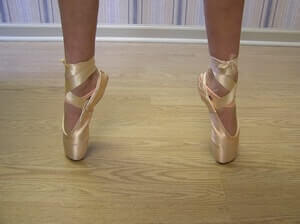 Photos courtesy of Richard T. Braver, DPM
SPORTS SHOE ORTHOTICS
These are the finest sport devices available for athletic shoes. They are designed to function in any sport for which the participant pushes off the ball of the foot. Specific modifications are made for different sports including exercise, walking, running, jumping, aerobic activity, basketball, tennis, volleyball, fencing, golf, softball, baseball and soccer shoes among others. These full-length devices offer control from heel to toes. They include an extended posting under the ball of the foot. Thus, when the athletes go up on their toes to push off, the forefoot orthotic control is working to prevent the foot, leg, knee, and hip from undergoing excessive motions. These devices all include a deep heel cup for added stability. The devices maybe ordered specific for certain types of shoes to appropriately fit inside of softball, football or soccer type cleats as well as other specific athletic footwear.
Written by Richard T. Braver, DPM, FACFAS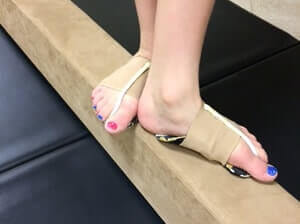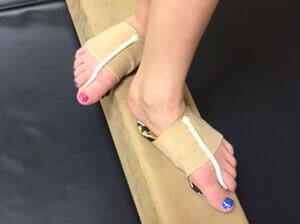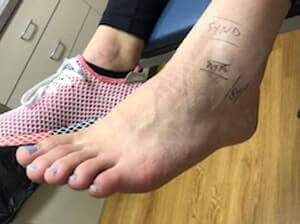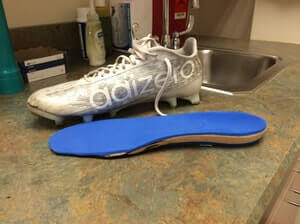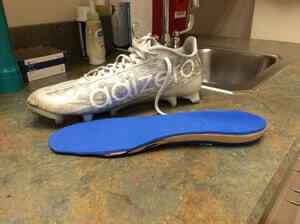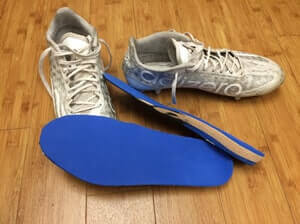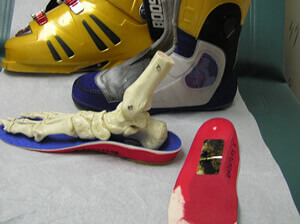 Photos courtesy of Richard T. Braver, DPM
Sprinting, Cycling, Skating, and Skiing Orthotics: All of these devices are designed for specific shoe gear such as racing flats, track spikes, cycling shoes, ski boots, and figure and/or hockey skates. They function to accommodate the stresses and strains inherent in each particular sport. Dr. Braver has designed some of these orthotics while working with elite athletes.
Men's and Women's Dress Shoe Orthotics: These are designed for individuals who stand or walk a lot. The devices cup the heel, support the feet, and control improper foot alignment, it extends from the heel to just short on the ball of the foot. Woman's devices are fabricated thinner then men's devices. They easily fit in most men's dress shoes, women's deep or strapped flats, pumps, low heel boots, moccasins, and boat type shoes. It allows for plenty of toe room in the shoe and is extremely comfortable to wear, helping to reduce foot pain & fatigue throughout the day.
CHILDREN ORTHOTICS:
Until the foot stops growing at about age 10 to 15, it may be recommended that temporary orthotics be prescribed. Please see previous description of temporary devices fabricated in our office during one's visit. They are adjusted frequently according to the foot's growth, usually at 6 months intervals. There are specific orthotics for flatfeet, high-arch feet, toe walking, in toeing, and out-toeing conditions. Use of these devices should help alleviate future joint dysfunction and facilitate proper bone alignment, thereby allowing for more normal muscle development and lower extremity joint alignment.
Written by Richard T. Braver, DPM, FACFAS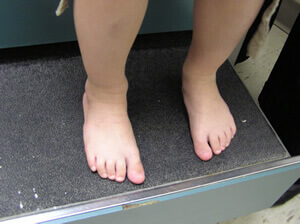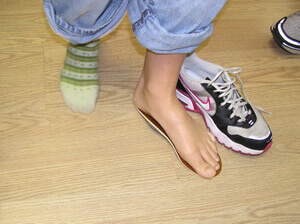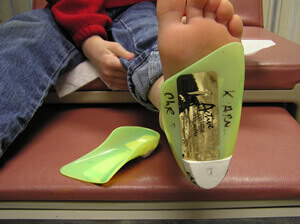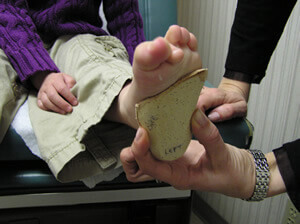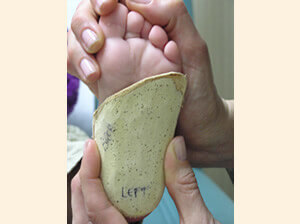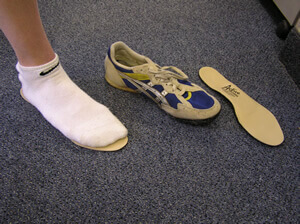 Photos courtesy of Richard T. Braver, DPM