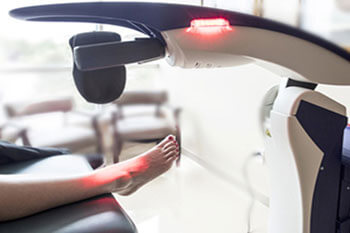 MLS Laser Therapy stands for Multiwave Locked System Laser Therapy. This is a minimally invasive procedure that targets pain points and reduces inflammation through the use of laser light. The laser is used to penetrate the soft tissues, stimulate mitochondria at the cellular level, targeted at the areas that are causing the most discomfort. It then works towards healing wounds and repairing soft tissue.
Some conditions MLS Laser Therapy can help treat include Achilles tendonitis, plantar fasciitis, heel pain, bursitis, neuroma, diabetic neuropathy, and different forms of arthritic conditions. Those who are experiencing pain due to sports injuries or after surgery may also find relief with this kind of therapy.
MLS Laser Therapy is a painless treatment that typically requires a short amount of time to complete. Sessions are typically twice a week for three to five weeks depending on the condition. Dr. Braver and associates use the laser to help improve blood flow, increase the speed of recovery, and alleviate pain. Improved immune function, as well as improved vascular and metabolic activity, are just some of the benefits of choosing MLS Laser Therapy as a treatment option.
If you'd like more information about MLS Laser Therapy, consult with Dr. Braver's office to determine if you'd be a good candidate.