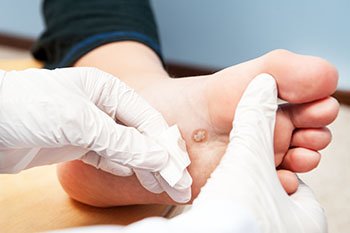 Plantar warts are found on the bottom of the feet. The word plantar means related to the sole or bottom of the foot. A wart is a living virus caused by the human papillomavirus (HPV) that may be contracted on skin contact. There are over 100 strains of warts which is why some are easy to treat and others very difficult.
Warts on the feet are seen as small round areas or patches of thickened and/or callus tissues. They start very small but may quickly grow. Warts are considered benign lesions but can cause pain when they occur on certain pressure points of the foot.
You may notice the wart to be fleshy; however, they soon develop a callus. Again, this may make it difficult to differentiate a wart from other skin conditions. At our office, warts are carefully examined under magnification. The presence of black dots which are tiny blood vessel capillaries, are symptomatic of a wart. We will scrape the callus tissue away in a nonpainful manner. If present, pinpoint bleeding of these capillaries would further verify the diagnosis of a wart. When lesions other than a wart are suspected, a skin biopsy is performed to ensure that there is no malignancy.
There are many ways to treat warts. Home remedies include use of duct tape and other self-help remedies. It should be noted that 13% of warts go away no matter how they are treated. Be careful when using duct tape so that the ensuing maceration does not cause a fungal infection or blistering. Use of over-the-counter acid pads or liquid medications should be prohibited in patients with diabetes, poor circulation, or sensitive skin.
Our office has invested in special medical equipment to rid one of warts without compromising their ability to perform daily functions and/or exercise activity. We use powerful cryotherapy machines to freeze a wart. This works much like placing a bottle of water in a freezer. As the water freezes, it expands cracking the bottle. Likewise, the cell wall of the warty virus is broken when freezing occurs. Warts are persistent and in addition to freezing, we provide a once a day prescription gel (which does not drip on to the normal skin). For severely recalcitrant warts, our office also provides pulsed diode laser treatment. This is not a cutting laser, so there is no chance of a painful scar. Rather, this laser works by vaporizing the wart. Vitamin A supplementation may also benefit one's ability to combat warts.
Our office often provides prescription antiperspirant or drying agent roll on medications for those with sweety feet. It has been shown that keeping the feet dry helps prevent and treat warty problems.
To help prevent warts, it is advisable to wear sandals in public places such as locker rooms, around pools, and at the gym. Avoid sharing shoes. Clean showers and bathtubs at home with bleach to help kill the warty virus. Should you or someone you know have warts of the feet, please do not hesitate to schedule an appointment for expert care.
Written by Richard T. Braver, DPM, FACFAS