"After a long battle, with what I thought was shin splints, I was referred to Dr. Braver's office. After his evaluation it was clear my legs had more issues than just shin splints. I had my first surgery on June 9, 2021, and I am very happy to say that I was able to return to the rugby pitch in time for my senior game. As a bonus it was the first game, I had played pain free in my 4 years at my university. I am so thankful for Dr. Braver and abilities he has returned to me."
- J. Stumpf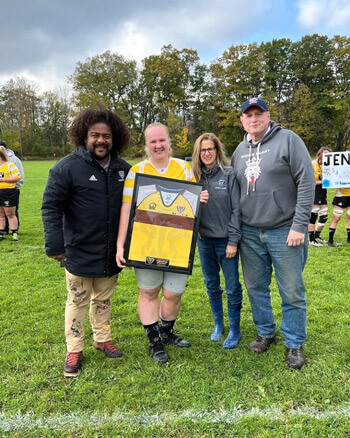 ---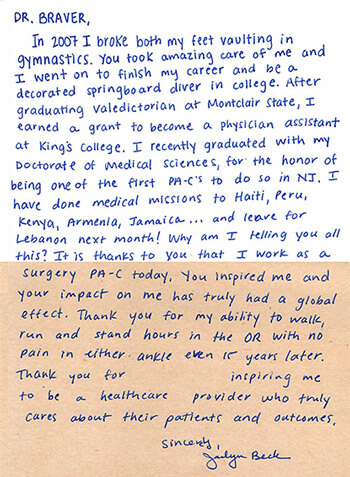 ---
"I just ran a 20-miler. I couldn't have done it without the GREAT care you gave me. I just ran the NYC Marathon. THANK YOU for making me me again and fixing my Achilles. You are the best! Thank you."
- Paul Semendinger
---
"I went to a relatively worthless female podiatrist for 4 years. A few months ago, I also requested a recommendation for a podiatrist. One of the recommendations was a true winner, Dr. Richard Braver, 44 Route 23N, Riverdale. This is a new location for him. He also has an office in Fair Lawn. His website: https://www.drrun.com. He is very thorough and highly skilled. He took x-rays and provided scripts for CT scan and MRI. I had very major issues. He also does surgery, but to make it convenient for my daughter who lives in Somerset County, I had the surgery near her, However, I would trust Dr. Braver with this complex surgery. If you have any specific questions, please private message me. I will be non-weight bearing for 12 weeks, mainly because of my age. I don't logon daily, but will respond."
- Janet Yundt
---
"I just want to say, Happy Anniversary. My surgery was one year ago today. I'm going to celebrate with a nice long run on my treadmill.
THANK YOU DR. BRAVER!!!!!"
- Paul Semendinger
---
"This is Rachel Miller's mom, Lisa. Because of you my husband and I are traveling to Rock Hill, SC in the morning to watch Rachel PLAY in their Lacrosse season opener!! There is a good chance she will start.
I was sitting in our kitchen and was overcome with emotion, truly, because although not life threatening, this condition challenged us in ways I did not expect. Thank you for your help in every way including your skill and compassion for us as people. It was 2 1/2 long years of over 10 different trainers and Drs... You gave her her legs back. We will stay in touch and send some photos from the weekend. Happy Valentines Day to you and yours."
- Lisa
---
"Dear Rick, I want to take a moment to thank you for your ongoing support of MSU Athletic Training, both clinically and financially. You have helped me and my staff to give our MSU student-athletes top notch health care. Your clinical expertise has benefitted our athletes and ATEP students.
I look forward to several more years of excellent co-operation and support. Thanks is such a small word, but it means so much."
- Thank you, JD
---
"Dear Dr. Braver & Staff, I hope all the good you do comes back to you. Thank you very much for seeing my son, David Rosas, on such short notice. Your expertise with the runners is admired. You made our lives easier. Thank you for your generosity and kindness, it was well received."
- Sincerely, Dr. Matta & David R.
---
"Dr. Braver and his EPAT treatment restored my running program in full, in 3 short weeks. I was off the roads and trails for 8 years with Achilles tendonitis, visiting many doctors and therapists, some who told me to just plain stop running. In my mind this was NOT an option. Extracorporeal Pulse Activation Treatment (EPAT), commonly known as shockwave therapy was THE answer. No other doctor had even suggested it. I have been pain free and running daily for 2 years since my three-weeks of EPAT treatments. Thanks to Dr. Braver and his team, for courteous and efficient care, as well as a spot on diagnosis and treatment plan."
- Jane G.
---
"I have always been very active. When I was 21, I broke my ankle hiking-and it never seemed to heal entirely. After my second child was born, my entire lower leg and foot swelled and walking was painful. Other doctors told me my ankle bone was disintegrating and I'd simply never walk normally, that I'd gradually lose mobility; that I might be able to have pins inserted, or other surgery that would allow continued walking, but I'd never have the kind of active life I love. When I went to Dr. Braver, he suggested the OATS procedure, which replaced the rotted piece of my bone with a cadaver bone (all living tissue removed). No one wants to have surgery, but the procedure was done in a day. I was diligent about PT, and followed up with Dr. Braver, and now I ride hunter/jumper horses six days a week (a sport introduced to me by my daughter, that second child), enjoy spin class, and hiking with my dog every day. I even wrote to the family of the person who provided the donor bone, so they know what that donation meant to me-extended possibilities, diminished pain. Dr. Braver's creative thinking gave me more mobility than I had before the procedure."
- Gwendolen G.
---
"Dr. Braver ended 6 months of severe pain in my right foot. I had 2 other doctors trying to ease the pain, but Dr. Braver took an active interest in my well-being and solving the problem. Dr. Braver and his team were completely transparent and extremely thorough in their treatment of the problem. They treated me with respect and dignity, and were fully invested in my well-being. There is no doctor better than Dr. Richard Braver."
- Bill K.
---
"Great experience! Excellent, caring doctor (something you don't always find together). My son is back to playing ice hockey, we are very pleased with the results! He even took the time to help him with his new skates. Great office management and wonderful helpful staff!"
- Barbara W.
---
Dr. Braver was very warm and personable to me. He was recommended to me as probably the finest podiatrist that one could find. It is my opinion that I was indeed blessed to find and be treated by the very best podiatrist on God's earth! His staff is very helpful and welcoming. I give Dr. Braver and his staff the very highest rating plus (200 out of highest possible rating of 100) available. I would and do recommend him to anyone who wants the very best diagnosis and treatment of any foot problem. By the way he fixed my problem ASAP!!!!"
- C. R.
---
"My daughter had an injury which she saw many other specialist and doctors for more than a two-year period of time. In one office visit he explained the problem to us. After several tests due to my insurance, they finally let him do surgery. We also got a second opinion that verified his findings. Thank goodness the staff was knowledgeable to work through the logistics of the insurance. There were multiple issues with her injury and all were taken care of. I can't believe what she can do again. The original injury had stopped her from doing simply things like taking a hike. Now she has hiked miles and can play sports again without any pain or discomfort. His professionalism, knowledge and simply caring for his patients wellbeing is excellent! Thanks again to the staff and Dr. Braver for making my daughter well! Also we have now referred two additional friends that were having issues and one of them which has had years of problems is now being cared for. Great doctor!
---
Dr. Braver is a knowledgeable and experienced physician and surgeon who goes above and beyond to help his patients.
---
I was fortunate enough to have seen Dr. Braver back in 2000 when I experienced severe foot pain, caused by an extra tendon in the foot, which I understand one in three people have. He corrected this problem with flat foot surgery in December 2000, which admittedly took a long time to adjust to, but I was able to continue running and do so to this day. Eventually my other foot developed the same problem, but thanks to his advice and the knowledge I gained from my earlier experience, I was able to avoid further surgery. Now looking back 15 years upon my long association with Dr. Braver, I am extremely grateful to know such a competent and insightful doctor. In addition, he is a thoughtful, friendly and entertaining guy - we always have great conversations. The staff is also very helpful and knowledgeable.