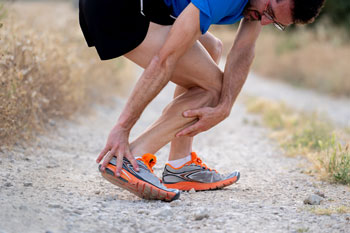 Often times athletes sustain an injury during their activity and are placed in a cast and told to rest. It is well known that rest cures most injuries; however, it is our philosophy to keep athletes active whenever possible during the healing process. We utilize "active rest", which involves taping or splinting an injured area to prevent any further damage, (along with other advanced proprietary treatments) yet allow the athlete to return to activities. This feat is accomplished by relying on our experience over many years working with several professional and college teams. We are able to transcend these advanced treatment techniques to our everyday athletic and active/work related patient population.
During the competitive season, our office often recommends to injured athletes, alternative activities to keep one healthy and in shape. This may include use of an antigravity treadmill (yes, like in outer space), which can take as much as 90% of one's body weight off of the feet yet allowing one to continue running, even with stress fractures and several other injuries. Our office also recommends use of a stationary bicycle as well as other sports equipment to keep one active during the healing stages of injury or after surgery.
We use advanced techniques such as PRP injections and EPAT acoustic shockwave treatment (which are detailed under separate headings in this website) to help speed up the healing process and to return to activity with less downtime from work. We often prescribe exercise activity immediately following surgery to maintain range of motion during the healing process in order to prevent scar tissue. Simple exercises include laying on your back and peddling your feet in the air, even when the ankle is immobilized in a cast. Sometimes, we recommend activities including heel raises to prevent scarification of the Achilles or big toe, after surgery. After nerve surgery, it is imperative to stretch and glide and perform early range of motion exercises to prevent adherence of scar tissue around the nerves. The same applies after fasciotomy for exertional compartment syndrome. Removable pneumatic cast boot immobilization is often preferred to a fiberglass cast to allow one to perform range of motion exercise as recommended by our office, yet provide stability in a nonweightbearing status. An early course of physical therapy may be recommended depending on one's surgery or injury to further promote range of motion and help reduce scar tissue. Please feel free to contact our office for consultation of any foot, ankle, or related sports injury of the leg.
Written by Richard T. Braver, DPM, FACFAS