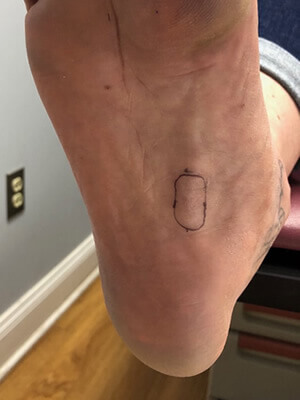 Fibromas are nodules on the bottom of the foot that often attach to the central or medial band of the plantar fascia. In different countries, it is known as plantar fibromatosis or Ledderhose disease. These lesions can become painful when they enlarge and/or have direct pressure on them, i.e. walking over a saddle between two rooms. There have been similarities of these lesions to fibromatosis of the hands called Dupuytren's contracture.
Plantar fibromas are composed of collagen with an abundance of fibroblasts. These soft tissues masses feel hard and are a production of "scar tissue". Unfortunately, for some reason there is an overproduction of this thick fibrous tissue, which is often felt as a raised nodule. They start as a small pea size lesion and can develop into a large thickened soft tissue mass.
Research has shown that surgical excision of a plantar fibroma has a high incidence of recurrence (50-60%). It is for these reasons that alternative treatments are utilized. In this country, some doctors recommend a specific protocol of a series of radiation therapy treatment. In our office; however, we see patients that have continued problems despite having received radiation therapy. I have been using injectable hyaluronidase enzyme for many years for the treatment of scar tissue associated with shin splints. It was thought that this enzyme served as a spreading factor when mixed with other scar atrophying cortisone medicine. However, newer findings reveal that this hyaluronidase; a natural enzyme found in human tissue, is itself responsible for breaking down scar tissue.
In our office, we locally numb the nodule or perform an ankle block with Marcaine anesthetic. A diagnostic musculoskeletal ultrasound machine is then utilized to measure the depth and size of the soft tissue mass. Once numb, the enzyme medication is mixed with a small amount of Kenalog cortisone to help atrophy, and break down the scar tissue nodule or mass. The lesion is often injected under ultrasound guidance to help reduce the incidence of injecting the hyaluronidase mixture into the surrounding soft tissue. We have not noticed any ruptures to date.
For extremely thickened and enlarged lesions, I have performed a "needling technique" within the soft tissue mass to help further soften the lesion and augment use of the injection. The injections are given at three to six weeks intervals. Lesions are injected three to six times depending on the size and ones' progress.
Our office fabricates soft Plastazote accommodative orthotics with a depression matching the size of the lesion so that there is less irritation while walking, and therefore, less of an inflammatory process to irritate the area. We also recommend topical Verapamil 15% gel to help augment shrinkage of the lesion. For more information on this newer treatment for Plantar Fibromatosis (which is considered an off-label treatment), please visit the Facebook Group Site Ledderhose Disease-Plantar Fibromatosis Support Group or call our office directly. If coming from out of town for treatment, please don't hesitate to contact office for travel assistance.
Written by Richard T. Braver, DPM, FACFAS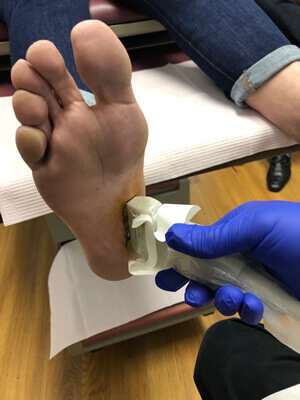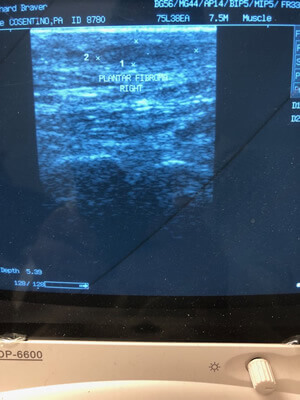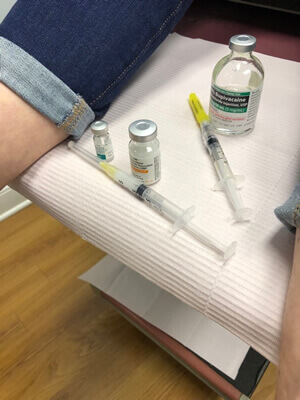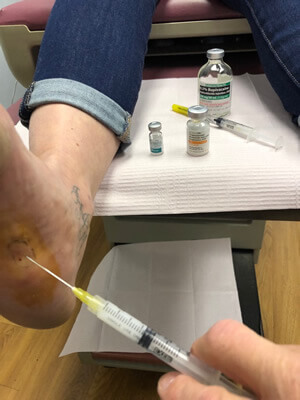 Photos courtesy of Richard T. Braver, DPM