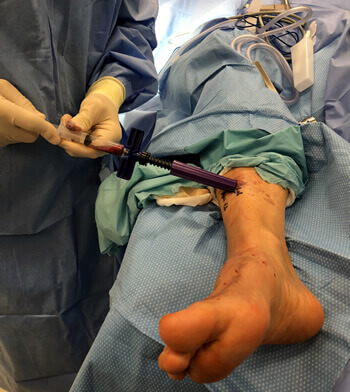 Bone Marrow Aspirate (BMA) is used in foot and ankle surgery to promote healing of bone that has a difficult time healing and to promote healing of bony nonunions. Many doctors believe that placing bone marrow aspirate into an injury site can activate damaged cartilage, bone or tendon to heal. Bone marrow is manufactured by the human body within the long bones including the tibia and femur as well as the heel bone and pelvic bone. Found in BMA is a combination of, progenitor cells, platelets, and adipose. Each have their own purpose in supporting the body's healing process. These cells can differentiate into many different types of cells and bone marrow mainly produces two types of cells: Hematopoietic and Mesenchymal cells. The hematopoietic cells differentiate into red and white blood cells and other vascular components. Mesenchymal cells differentiate into cells responsible for repair or growth of cartilage, bone, muscles, tendons, ligaments, fat, and other connective soft tissues. Also, within the bone marrow are endothelial progenitor cells, which differentiate into cells that help the release of proteins that help form new structures including bone. Bone marrow is also rich in platelets and growth factors, which facilitate cell differentiation. Growth factors allow proteins to bind to specific cells thereby signaling their genetic makeup to form different types of reparative cells. The white blood cells within bone marrow helps protect the body from disease. All of the above types of cells and growth factors are living substance, which are easily aspirated from the hip or lower leg. However, in Dr. Braver's experience, he has had excellent result of harvesting bone marrow from the tibia in healthy individuals and obtaining the desired results for bone or tissue healing.
Dr. Braver initially started aspiration of cells from the pelvic bone but found that during foot and ankle surgery, this process necessitated additional preparation of the hip, was time consuming, and often caused hip soreness. As a result, he has been aspirating bone marrow from the tibia through a technique that yields bone marrow within a few minutes and is minimally invasive. A small puncture hole is made through the tibia bone and a specialized needle is utilized to withdraw a few ml. of bone marrow with minimal to no postoperative pain. Bone marrow aspirate no longer needs to be centrifuged, which also helps speed up the preparation process. Dr. Braver has found no difference in healing of non-union between pelvic aspiration or leg aspiration technique. Beware that bone marrow concentration does change with one's age and presence of disease.
The most common conditions for which Dr. Braver and associates utilize bone marrow aspirate is to augment healing of certain fractures and fusion of bones, which are known to have a poor blood supply or difficult time healing. In podiatry, these procedures include triple arthrodesis, ankle fusion, talocalcaneal fusion, Lapidus first metatarsal-cuneiform fusions, tarsometatarsal fusions, Jones fractures, as well as for the care of ankle and foot fractures that have not healed (nonunions).
Often times during surgery, bone chips are needed to pack a bony void or to fill in areas where bone-to-bone apposition is needed to provide for improved bone-to-bone contact. Dr. Braver "soaks" the harvested bone graft or donor bone chips in the bone marrow aspirate. This greatly enhances the healing of bone. This is especially useful in treating nonunions or in people with chronic pain after fractures despite having previous surgery. This technique utilized along with compression hardware often greatly improves surgical outcomes.
Unlike other regenerative medicine techniques including PRP and amniotic tissue injections, bone marrow aspirate uses "living reparative cells" to promote healing, in addition to the use of growth factor proteins and other substances. If you feel you or somebody you know would benefit from the Bone Marrow Aspirate procedure, please do not hesitate to call our office for consultation. If you are coming from out of town, please feel free to ask our office about travel arrangements.
Written by Richard T. Braver, DPM, FACFAS