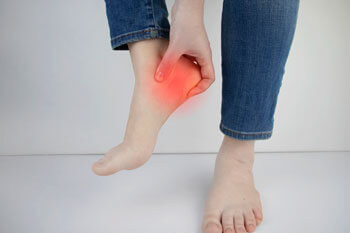 Neuropathy is a condition, which occurs to the nerves of the feet and sometimes in the hands, which become damaged or diseased. This condition is known as Peripheral Neuropathy because these nerves are at the end (periphery) of the extremities. Peripheral neuropathy affects the sensory nerves that are responsible for sensations of vibration, sharp and dull, and feeling hot and cold. The most common cause peripheral neuropathy is diabetes. It is said that one third of peripheral neuropathy is caused by the effects of diabetes, one third are from the effects of other known maladies and results in alcoholic neuropathy, vitamin B12 (lack of) neuropathy, syphilitic neuropathy, post chemotherapy neuropathy, and autoimmune neuropathy. The final one third of peripheral neuropathy is from idiopathic or of unknown causes, which may have a genetic or hereditary basis. Peripheral neuropathy symptoms may be mild and include loss of feeling vibratory or sharp sensations. Moderate symptoms can include tingling, burning, or stabbing pain in the feet. Weakness and feeling of constant numbness may also occur. More severe peripheral neuropathy may include burning pain, which keep people up or wakes them up at nighttime.
In our office, patients are examined during their first visit for any loss of vibratory, sharp/ dull, or lose of hot and cold feeling. Anyone we suspect to have neuropathy or anyone that complains of neuropathy symptoms gets a baseline epidermal nerve fiber density test. We do this by numbing a small area taking a minimal 3 mm sample of skin at a site just above the ankle and send this off to a specialized lab for analysis. Once completed, a small bandage is taped to the skin. The samples are examined for the quality and quantity of nerve fibers. The results are compared to thousands of other sampled specimens. The results are reported as zero, mild, moderate, or severe neuropathy. With that knowledge, the appropriate treatment is initiated.
Mild and moderate peripheral neuropathy are treated most often with prescription strength nutraceutical vitamins, specifically formulated for neuropathy and designed to be metabolized most efficiantly. These nutritional supplements include a combination of vitamin B12, cyanocobalamin, and alpha-lipoic acid. In addition, we provide advanced MicroVAS neuropathy treatments. These 45 minute in office treatments have shown to stimulate healing of damaged nerves and blood vessels.
For severe nerve pain, our doctors perform a series of nerve blocks to reduce the firing of nerve impulses, thereby reducing the intensity of tingling and/or burning and stabbing pain. Oral medications may be utilized including brand names Neurontin, Lyrica, and Cymbalta. Many patients; however, have experienced side effects from these medicines, which is why our office offers alternative treatments. In addition, topical medications are also helpful to curtail burning and numbness.
For those who do not respond to the aforementioned treatments or for those with severe peripheral neuropathy pain or any severe nerve pain, we can implant a nerve stimulator. For many years, nerve stimulators have been implanted along the spine to provide electrical impulses to the spinal nerves to block sensation of pain to the low back, legs, and feet. Recently, a few companies have developed a small fiberwire a few inches in length, which can be placed under the skin along the problematic nerve of the ankle or leg. This wire acts like an antenna and a battery pack is worn on one's belt or strapped to the leg. The battery pack transmits an impulse to the "antenna", which stimulates the nerve to stop transmitting pain signals. Unlike spinal nerve stimulators, the battery pack is not implanted under the skin, rather it is worn outside the body. Therefore, it is easy to change the battery without additional surgery. Known as a "wireless nerve stimulator", it greatly reduces and/or eliminates unwanted symptoms.
Dr. Braver and Associates have specialty training in neuropathy treatment along with treatment of other nerve disorders. Should you require such treatment, please do not hesitate to contact our office. If coming from out of state for this treatment, please do not hesitate to call our office for travel arrangement.
Written by Richard T. Braver, DPM, FACFAS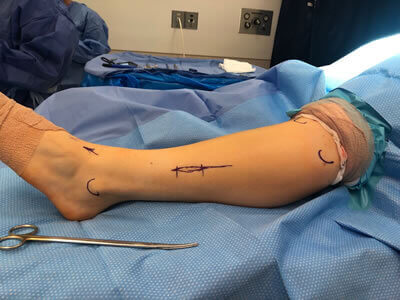 Photos courtesy of Richard T. Braver, DPM