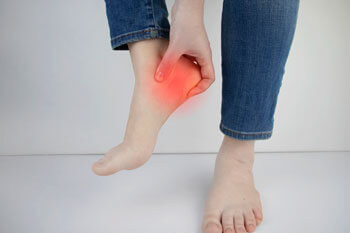 Nerves may be injured from a seemingly light trauma or more traumatic injury that can cause a crushing of the nerve, compression of soft tissues around the nerve, or scar tissue after healing has occurred. Nerve pain may develop as a result of a sports injury, automobile accident, slip and fall injury, ankle sprain, or after a surgical procedure. Symptoms of nerve damage include sensitivity to light touch, numbness and tingling, shooting or stabbing pain, pain that persists after a bone fracture, numbness, tingling or sensitivity that develops or persists after surgery of the foot, ankle, or leg has healed, or a generalized weakness of a muscle that is supplied by the nerve. Some patients complain of difficulty walking up and down stairs, loss of balance or weakness on push-off. Rarely, a nerve injury or drop foot may be caused after knee or spine surgery when there is irritation of the surrounding nerves. Nonsurgical conditions such as a stroke or muscle disease process can also cause a nerve problem or drop foot.
At Active Foot & Ankle Care Center, we perform a clinical examination of your feet and legs and test for nerve injury at the site of pain. We have specialized instrumentation to clinically test nerves. A nerve conduction study or MRI may be ordered to further evaluate your nerve condition. An in office selective nerve block may be performed by injecting a very small amount of anesthetic directly to the nerve, usually under ultrasound guidance. Many patients report immediate relief of all pain in their foot verifying the probable nerve that is involved. This may be followed with a series of injections to help reduce chronic nerve pain.
Problematic nerves may also be treated with topical or oral anti-inflammatory medications and injections. We offer electrical nerve stimulation treatments as well as implantable peripheral nerve stimulators. These treatments provide electrical impulses, which block pain signals travelling from the injured nerve to the brain. This is further discussed in the "neuropathy" section of this website.
For those who fail conservative treatment, we perform specialized lower extremity nerve surgery. It is not unusual for patients to have a nerve coursing next to a vein resulting in symptoms only during exercise. When the vein engorges with blood, it can cause painful compression to the nerve. Nerves may also be irritated after an injury which can lead to reactive tissue forming around the nerve, sometimes causing scar tissue or a "neuroma". Pain may be alleviated through conservative care, but should problems persist, we perform nerve release procedures under microscopic or loop magnification. This involves using micro instrumentation to remove scar tissue or relieve any abnormal compressive tissues surrounding the nerve. Surgical repair (or rarely, excision) of the diseased nerve may be necessary. To help prevent recurrence of scar tissue around nerves, we teach our patients early range of motion exercises performed within a day or 2 of surgery. Often times, we will wrap the nerve with a thin covering that allows for improved gliding motion for reduction of scar tissue. For these reasons, it is rare that we apply a hard cast after nerve surgery. We do not want the nerve to scar back into place.
Dr. Braver is a member of the Association of Extremity Nerve Surgeons and has frequently lectured on nerve disorders. Please do not hesitate to schedule an appointment should you or anybody you know experience nerve pain.
Written by Richard T. Braver, DPM, FACFAS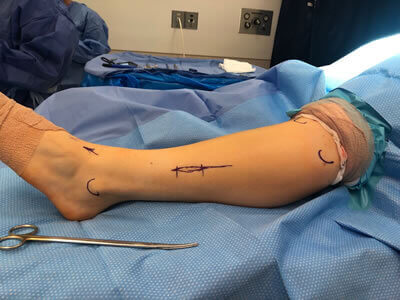 Photos courtesy of Richard T. Braver, DPM