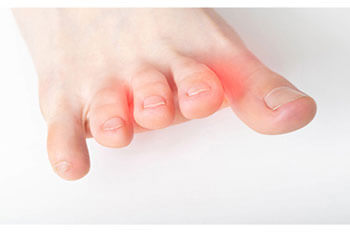 Morton's neuroma is a pinched nerve between the toes, most commonly found between the third and fourth toes. It is a benign growth that occurs when the nerve gets pinched between the adjacent bones and soft tissues at the forefoot, just proximal to the toes. Symptoms of neuromas may include pain, burning, numbness, tingling, or shooting of electricity to the toes. This condition is often aggravated when walking barefoot or when wearing tighter or narrow shoes. Morton's neuromas are seen with a higher incidence in people with bunion and hammertoe deformities as well as wider feet or flatfeet. These conditions may predispose one to excessive pressures within one's shoes. High-impact or repetitive activities including spin class, cycling, stair-type exercise machines, and jogging can further contribute to this condition. Less frequently , people are affected for no apparent reasons.
Patients often visit our office for care of forefoot pain or burning, not knowing anything about this type of pinched nerve condition. Conservative care includes wearing wider and softer shoes, metatarsal pads, and orthotic devices, all to reduce pressure to the affected nerve. Anti‑inflammatory medicines and ice packs help to reduce swelling. Oftentimes, we will provide either a corticosteroid injection and or a series of neurolytic injections including sterile dehydrated alcohol to remove fluid from within the nerve thereby reducing its size, which reduces the pinching between the metatarsals and toes.
Our office provides in-office diagnostic ultrasonography to pinpoint the neuroma and measure its size. We often perform injections under ultrasound guidance. An MRI study with a contrast "dye" helps to enhance the appearance of small nerves. If conservative care does not adequately relieve symptoms than surgical intervention is instituted.
As a member of the Association of Extremity Nerve Surgeons, we follow the newer protocols for treatment for nerve release procedures. Here, the nerve is freed from the surrounding tissues, which are pinching into the nerve. Ligaments that tightly connect the metatarsals and toes together are released thereby decompressing the nerve. Surgery is performed under magnification whereby the nerve and its small branches are examined for signs of scarification and/or fibrotic tissue that may be entrapping the nerve. Much like carpal tunnel surgery in the wrist or tarsal tunnel surgery in the ankle, there is usually no need to remove the nerve, rather the surrounding tissues entrapping the nerve are released. This is followed by immediate range of motion exercises and full weightbearing ambulation to prevent return of scar tissue.
It is not uncommon that our office has to perform revision surgery for those that have had their neuromas surgically excised by another doctor. For these cases, we carefully examine the nerve under magnification and often need to free up the stump (enlarged ending) of a nerve and apply a nerve cap to it, so that pain is relieved.
Should you require our expertise care, please do not hesitate to schedule an appointment.
Written by Richard T. Braver, DPM, FACFAS