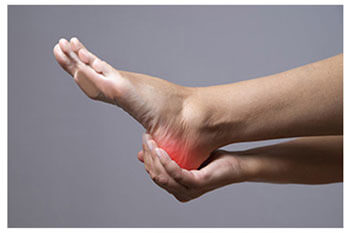 Heel pain is a stressful condition that can affect a person at every step. Bruising of the heel is often created from excessive walking or weight on the feet or from repetitive exercise activities.
One of the main causes of heel pain is a condition known as plantar fasciitis. The plantar fascia is a band of tissue that extends along the bottom of the foot from the heel to the toes. A rip or tear in this ligament can cause swelling resulting in severe heel pain. People with flat feet or those with hyperpronation syndrome and those who are double jointed are at a higher risk for developing this condition. In these scenarios, the foot rolls in as the arch collapses, causing a twisting motion or tension on the plantar fascia, particularly at push off. Stress upon the feet from wearing non-supportive shoes or sandals, a gain in weight, and excessive activities can all contribute to plantar fasciitis.
Achilles tendonitis is another cause of heel pain. Similar to plantar fasciitis, irritation and pain of the Achilles tendon at the back of the heel is usually caused by excessive motion of the foot at heel strike or from tight calves.
A third cause of heel pain is a heel spur. A heel spur on the bottom of the foot typically occurs when the tissues of the plantar fascia undergo excessive tension at its insertion point at the bottom of the heel, which causes the body to react by developing a calcium deposit commonly known as a heel spur. Likewise, a heel spur at the back of the heel may develop when there is excessive tension at the Achilles insertion, which causes the body to develop a calcium deposit which can be felt as a bump. Often times this rubs against the back of one's shoes causing skin irritation, blisters or pain.
Treatments for heel pain are easier when the problems are addressed quickly. The most common cure of heel pain is simply taking stress off of the feet, particularly off of the heel. This will help ease the pain by allowing the ligaments and/or tendons to relax. Often times, patients present to our office having seen multiple other doctors with chronic plantar heel pain. For plantar fasciitis and/or Achilles tendonitis, we recommend heating in the morning to promote circulation and allow the area to become more flexible and to stimulate lubrication of the joints. Icing will help reduce swelling, particularly at the end of the day.
At our office, we fabricate flexible orthotics during the initial visit. These devices are pressure sensitive and after wearing them for one week, they mold to the shape of the feet. We are then able to adjust them to increase their effectiveness. Once relief is obtained, custom orthotics with deep heel cups are fabricated. Our orthotics are designed to encapsulate the heel there by enhancing one's natural fat pad and shock absorption. Multiple articles explaining the care and treatment of plantar fasciitis are given to our patients during their visit. X-rays and diagnostic ultrasonography are performed in office to determine if tears are present and to determine how much inflammation and thickening of the plantar fascia is present. Anti-inflammatory medication is highly recommended and if pain is severe, an injection of either cortisone or a homeopathic medication (including Arnica and others) is recommended. Plantar fasciitis and Achilles tendonitis are highly responsive to EPAT acoustic shockwave treatment. This may be combined with amniotic or PRP injections. Many patients require only three 5-minute EPAT treatments based one week apart to render them asymptomatic. This may be performed in conjunction while attending physiotherapy. In extreme cases, relief of heel pain might require surgery. This is typically done through an arthroscope, which allows for minimal trauma to the foot. Most patients are placed back into athletic shoes within a few days. Having treated thousands of patients with heel and/or Achilles pains, our office is highly successful in keeping our patients active and pain free.
To learn more about this, please see our videos section.
Written by Richard T. Braver, DPM, FACFAS