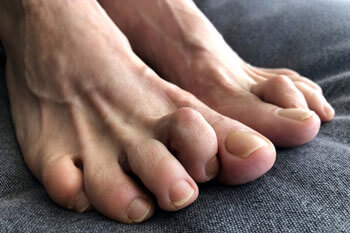 Hammertoes are painful deformities of the toes, which resembles the curvature of a hammer. Here the toes appear knuckled as if they are gripping the ground. Sometimes, the toe remains in a fixed position, other times the toe is flexible and can be straightened. This condition is often caused by one's foot mechanics, which includes the way one stands, walks, and their foot type.
The most common cause of hammertoes is flatfeet. As the foot flattens, the tendons on the bottom of the foot tighten to help support the arch. However, these tendons attach to the tips of the toes and as they tighten, the toes are curled downwards. Eventually, this may become a fixed deformity necessitating more aggressive care.
Another major cause of hammertoe is high arched feet. Here, the metatarsal bones are angled downward causing the toes to contract upwards. This condition is worse in those individuals with tight muscles of the calves and bottom of the feet.
Shoes that are improperly sized or the wearing of high heeled shoes that are too narrow causes the toes to be pushed forward causing a shortening and bending deformity, leading to hammertoes. Hammertoes can also be the result of arthritis, trauma to the feet, or after sustaining a stroke.
Corns or calluses over the toes or under the ball of the foot are all symptoms of hammertoes. Flexible hammertoe treatment may include tapings or paddings to temporarily help straighten the toes along with changes in shoe gear and instituting a home exercise program. Rigid hammertoe deformities may be treated by wearing a donut pad over each toe and taping the toe downward to help relieve pains and rubbing on the shoes along with wearing roomier shoes.
To permanently fix a toe deformity, we perform same day surgery at a surgery center or hospital under local or IV sedation type anesthesia. To help straighten the toes, a small piece of bone is removed to allow the toe joint room to straighten. Often times the tendon to the toe is lengthened so the toe may sit flatter. An internal or external pin is usually needed to keep the toe straight during the healing process. Patients are placed in a surgical shoe, allowed to walk, and return home the same day. Our patients are seen in the office two to three days after the surgery. A lighter bandage is applied, and home exercise program given to keep our patients active.
Should you require consultation for any toe problem or painful foot condition, please do not hesitate to visit our office for expert guidance and care.
Written by Richard T. Braver, DPM, FACFAS