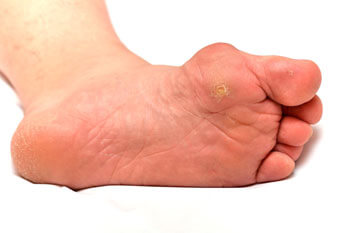 Corns are thickened areas on the skin surfaces of the feet. Most commonly, they are found over the toe knuckles where there is an area of pressure or friction, which rubs against the shoe. Corns may also be raised skin bumps that are painful to touch. They may be confused with other areas on the bottom of one's foot, which may include blocked sweat glands, splinters, and pressure calluses. Sometimes, the areas under and around a corn may become red and swollen.
Some patients treat corns with over-the-counter medications; however, this is discouraged for diabetics or those with poor circulation. Wearing silicone or foam toe sleeves or wearing Donut pads around the corn are all helpful to reduce one's shoes from rubbing on the painful area. Wearing cushioned, softer, and roomier shoes is also helpful to reduce pain.
Patients often visit our office after having failed conservative care. We take x-rays with a metal marker placed around the corn to accurately determine the underlying cause of this ailment. Often times, a bone spur or prominent bone is the culprit.
Our doctors typically scrape the dead skin away providing temporary relief of this condition. A small biopsy is performed when lesions other than a corn are suspected, such as a wart or melanoma. Surgery for corns or skin lesions also focuses on dealing with the underlying tissue or bone that is causing the problem. Sometimes the corn can be excised in the office. If a prominent bone is present it is filed down. Crooked toes are straightened. These treatments eliminate the problem from recurring.
Should you require care of any painful corn or suspicious skin lesion, please do not hesitate to schedule an appointment at our office.
Written by Richard T. Braver, DPM, FACFAS