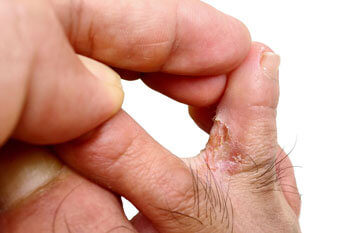 Athlete's foot is an infection caused by a fungus that may result in peeling and/or flaking skin, itching, and/or burning of the skin. Typically, this occurs to the soles of the feet and/or between the toes. The fungus may weaken the skin, particularly between the toes causing a crack in the skin, which may allow for bacteria to set in and cause an infection. At least several times per year, we have to admit patients to the hospital for IV antibiotics secondary to bacterial infection known as cellulitis, which was precipitated by Athlete's foot.
It is commonly stated that "fungus is among us." Fungus thrives in moist areas such as shower floors, gyms, dormitories, locker rooms, etc. Athlete's foot can be spread by direct contact with any surface that has fungus and may also be contracted by wearing an infected person's shoes. Fungus likes to live in moist and dark environments. Socks and shoes provide an ideal environment for fungus to live.
Athlete's foot infection may be prevented by wearing sandals around locker rooms and public places. Patients with sweaty feet are more prone to this infection and these people should use an absorbant antifungal powder on their feet on a daily basis. In addition, antifungal shoe sprays should be utilized on a weekly basis and sprayed inside of the shoes. Prescription roll-on antiperspirant, or drying agent medications for the feet are also commonly prescribed at our office. It is important for these people to pull out any inserts that they are wearing in their shoes to allow the shoes to properly dry. Shoes should be rotated on a daily basis to further allow the shoes to totally dry between wearing.
Bathing one's feet with soap and water, and using a washcloth in a flossing motion between the toes helps to remove any dead skin and helps physically remove fungus. Gently removing peeling skin also helps to remove areas where the fungus lives and exposes the skin to fresh air. Make sure to dry the feet well. Should you have Athlete's foot, topical over-the-counter and prescription creams are readily available to help treat this condition.
If you notice any swelling, pain, or redness, please call our office for an appointment as soon as possible so they can determine the best treatment for you.
Written by Richard T. Braver, DPM, FACFAS