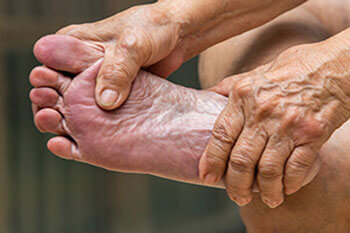 As one ages, structural malalignment of the feet including flatfeet or high arched feet predisposes one to abnormal rubbing of the joints, which eventually leads to arthritic changes. In addition, those who have previously sustained a foot or ankle sprain/fracture often complain of continued pain from the trauma/surgery. Years later they may complain of pain and stiffness at the injured area. Signs of arthritic changes include chronic swelling or stiffness of the foot or ankle, particularly when arising out of bed in the a.m. Others complain of a constant pain or limitation of motion or of sharp pains during/after strenuous activities.
Patients are seen in our office and carefully examined by our foot and ankle specialists to determine exactly what joints are involved. We then use x-rays, MRI, and/or CT examination to help confirm our diagnosis. Treatment at our office includes anti-inflammatory medications, in-office fabrication and dispensement of supportive orthotics, as well as foot/ankle braces to help limit motion and stop swelling. Physical therapy modalities help further to reduce swelling. Strength training may help stabilize joint motion. For advanced cases, we use our fluoroscopic imaging machine to perform corticosteroid and/or homeopathic injections into the involved joint.
Many patients come to our office having failed conservative care. For those, surgical intervention is offered. When possible, joint implants are utilized as opposed to fusion of joints because it is our opinion that restoring anatomical motion is better than fusing the joints. Fusions typically cause the person to walk in an abnormal manner leading to other compensatory joint pains. Implants for the small toe joints, big toe joints, and ankle joint offer early ambulation and therefore, much quicker return to activity compared to fusion surgery. Fusions require 6 to 8 weeks of cast immobilization. We have performed multitudes of implants and have had great success. Please refer to other sections of this website for specific information regarding big toe joint implants and/or ankle implant surgery. Please contact our office to schedule an appointment. If we can help you make travel arrangements to our office, please do not hesitate to ask.
Written by Richard T. Braver, DPM, FACFAS