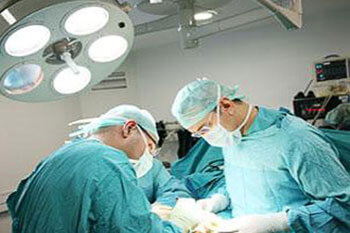 Ankle Surgery may be required as a sequelae to a previous ankle fracture which has caused arthritic changes or a painful malalignment, or secondary to genetic arthritic disorders. Surgery is instituted when conservative noninvasive treatments are unsuccessful to reduce one's ankle pain. An ankle joint that has received a comprehensive examination, x-rays, MRI, and/or CT scan with diagnosis of severe damage of cartilage and/or joint problems may be treated with a partial ankle bone replacement, joint fusion, or total ankle replacement.
A partial ankle bone replacement may be performed for damaged cartilage of the ankle bone (talus). In this surgery a fresh cadaver donor ankle bone is matched for size to the ankle to be replaced. The diseased portion of the ankle bone (talus) is removed and the exact same size is then removed from the fresh cadaver done bone. This is then implanted into the recipient and healing begins. Patient reported that once healed, they have returned to full activities.
Total ankle replacement involves pre-measurements of the ankle joint to match the most suitable implant available. Total ankle joints are made of titanium with a plastic interface to allow the joint to glide and provide same shock absorption. It is rare that the titanium fails. In many years, the plastic interface may need to be pulled out and a new interface inserted. The results of this procedure have been extremely successful in our hands and it is very gratifying to see the results.
Ankle fusion involves removing a portion of the damaged ankle joint to properly fuse the ankle bone (talus) and the distal leg bone (tibial) together. This will create a stiff but pain free ankle. Typically, a long screw/nail is inserted up through the heel into the leg to hold the bones together. New bone grows across and allows the joint to fuse. Following recovery, the patient will have significant less pain to the ankle point. For more information see our web site topic " Ankle Fusion/ Ankle Replacement" and "Ankle Ligament Repair".
Should you or someone you know require advanced ankle surgery, please do not hesitate to contact our office for a thorough and extensive examination.
To learn more about this, please see our videos section.
Written by Richard T. Braver, DPM, FACFAS