ANKLE LIGAMENT TEAR/INSTABILITY
If you have recently sprained your ankle or if pain from an ankle sprain/injury continues over a longstanding period of time, there may be an underlying problem, which needs to be addressed. Many of our patients report that their ankle feels weak or unstable. They may also report their ankle frequently gives out. Others report waking up in the morning with a stiff ankle. These problems may be related to tear of ligaments which never healed properly, causing the ankle to wobble abnormally during every step. This irritation can lead to swelling of the ankle joint, which leads to stiffness. If left untreated for a longstanding period of time, this can lead to arthritic changes of the ankle joint necessitating more advanced surgery.
It has been reported that 5% to 7% of all new ankle sprains and those with chronic problems require advanced specialty care. Our foot and ankle specialists take the time to perform a detailed examination of the ankle and perform stress ankle x-rays in our office. By manual stressing the ankle and recording this on x-rays in combination with an MRI, we are able to determine which ligaments are excessively loose or torn. The results obtained by these tests help to determine if bracing, rehabilitation, or surgery is necessary. This also helps to determine which procedure to perform (if indicated) and how tight to make the ligaments during the operative process. If necessary, we repair ankle ligaments primarily and often augment them with either ones own soft tissue or with newer advanced ligament supplementation devices. We must emphasize that we do not totally rely on ligament replacement devices, because if they fail, than the procedure fails. Tendon tears may accompany ligament injuries. They are often repaired and reinforced with absorbable allografts to help make them strong, so full recovery is gained. If ankle joint pain is present, then ankle arthroscopy is performed at the same session as the ligament or tendon repair.
Many of our patients have failed conservative care and travel from other states seeking our specialty care. We have published articles as well as performed hundreds of ankle surgeries with astonishing results. Our athletic patients are typically back in competitive sports within a few months after surgery. At your appointment feel free to request our protocol sheet for recovering from ankle surgery to return to sports. Should you require care of any ankle injury or for an ankle stabilization procedure, please do not hesitate to make an appointment at our office for a thorough and extensive examination.
Written by Richard T. Braver, DPM, FACFAS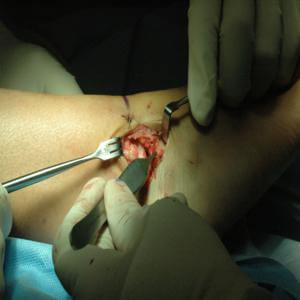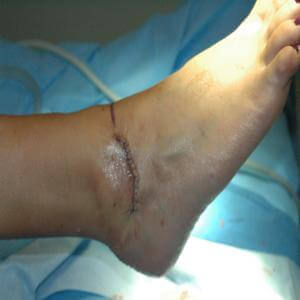 Photos courtesy of Richard T. Braver, DPM